Fine Dining: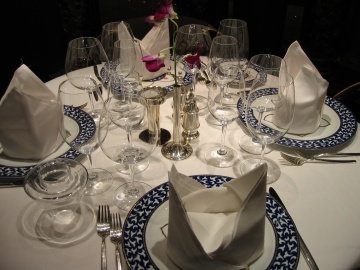 Do you like short, thought-provoking posts that challenge you to think about the content, and its' application to your own life? Do you nibble at the content, savoring each bite-sized sentence as it unleashes unique and insightful flavors throughout your blogging palate? Is each bite completely essential to the overall dish?
If so, fine dining blogging may be your preference. Some of my favorite fine-dining bloggers include Seth Godin and the up-and-coming Richard Millington.
Buffet Blogging:
Or maybe you like to sit down and devour paragraph after paragraph of satisfying portions that may lack mystery, but are certainly filling in their own right? You know what to expect and each course comes logically after its' predecessor, yet by the time you finish you are full of new found, applicable knowledge.
Are some bites better than others, even if the dish as a whole was solid?
If this is the case, buffet blogging might be the thing for you. Jason Falls is a buffet blogger. Tiffany Monhollon was in 2008. [It seems she may currently be experimenting with new culinary blogging skills.]
Some people always prefer fine dining. Others seek out the value that a good buffet provides, but I suspect most people like to mix it up depending on their current state of hunger.
I have an insatiable desire to read and learn, but because I read far more often than I eat, it is even easier to get tired of the same old routine.
Mix It Up:
Unless you are a master chef at one of the two styles, consider mixing it up from time to time. Alternate and experiment with different ingredients and different flavors. More importantly, listen to what your diners want on the menu and do your best to satisfy their hunger.
With this in mind, I will be experimenting with some new flavors in 2009.
One such flavor is brevity. What other flavors would you like me to add to the menu?
Tweet This: (Copy & Paste into Twitter)
Fine Dining vs. Buffet Blogging: Which do you prefer? http://tinyurl.com/8x4t4r
If you enjoyed this post please consider subscribing to receive future updates or connecting with me via Twitter or LinkedIn