[Last Update: 3/22/2020]
New links to keep you informed:
Peter Attia, M.D. and Paul Grewal, M.D.: Coronavirus (COVID-19) FAQ
In this episode, Dr. Paul Grewal, M.D. joins Peter to discuss what they have learned in the past week in the midst of the rapid changes surrounding the COVID-19 pandemic. Their conversation touches on both optimism and uncertainty: actionable steps we can take to improve the situation with the understanding that it is too late for viral containment. Specifically, Peter and Paul discuss some promising drug treatments, reasons for isolating-behavior adoption, and what they are personally instituting in their own lives. [Recorded on March 13th.]
How the Coronavirus Became an American Catastrophe
The death and economic damage sweeping the United States could have been avoided—if only we had started testing for the virus sooner.
Infectious Disease Experts Don't Know How Bad The Coronavirus Is Going To Get, Either
One of the most pernicious parts of the COVID-19 crisis is how uncertain everything is. Researchers and officials cite statistical models that estimate infection rates, death counts and when things will go back to normal, but those estimates are changing rapidly. And as the forecasts bounce around, so do the rest of us living through the crisis.
How the Virus Got Out– NY Times
Great data visualization that illustrations why the most extensive travel restrictions to stop an outbreak in human history haven't been enough. We analyzed the movements of hundreds of millions of people to show why.
Why You're Harming Others By Not Overreacting – Nassim Taleb
Most Common Comorbidities of COVID-19 Death From Italian Study
Hypertension(74%), then diabetes (33.9%), Heart Disease (30.1%), Atrial Fibrillation (30.1%), and Renal failure (20.2%).
Great Twitter thread from Fred Hutchinson scientist, Trevor Bedford, on what we can do to mitigate and suppress this epidemic
The first strategy revolves around a massive rollout of testing capacity.
The second, related, strategy is using cell phone location data combined with data on known positive cases to alert possible exposures to self isolate and get tested.
2020 Economic Apocalypse: The Effect on Small Businesses
96% of local businesses already adversely impacted by the outbreak
51% say their business will only be able to continue to operate for 0-3 months
13% are confident about their contingency plans to maintain
25% expected GDP drop in Q2
On Wearing Masks
Because of asymptomatic spread, Scott Gottleib, MD, recommends wearing standard surgical masks if going out in public.
Why Telling People They Don't Need Masks Backfired by Dr. Zeynep Tufecki
[For what it's worth, my official stance is that, if you have any extra masks you should immediately donate them to nearby healthcare professionals, but any argument that "masks don't work," is a lie designed to ensure healthcare workers have enough PPE. It's disingenuous. Every country that has this under control has citizens that overwhelmingly wear masks. Any type of general mask use is likely to decrease viral exposure and infection risk on a population level, in spite of imperfect fit and imperfect adherence.]
###
[Original post (below) written on March 11th, 2020.]
It's *not* "just the flu"
A number of friends and acquaintances keep referring to COVID-19 (the newest corona-virus) as "just the flu."
Many are showing 5-12 months worth of seasonal flu data to state that it's more dangerous and lethal than COVID-19.
While it's true that the flu has killed more people to date, the important thing to realize is that COVID-19 is just getting started in the U.S.
It's a bit disingenuous to compare a year's worth of data (see: deaths) from something we know about (the seasonal flu) to something that's just now starting to proliferate (COVID-19). Let's compare again after a calendar year for more accurate representation.
There's a reason that universities, full of really smart people and researchers, are shutting down campuses and leading health institutions already have many non-essential employees working from home. These entities aren't doing this because of a "hoax" or media hype. [Update 3/11: The remainder of the NBA season is cancelled.]
There's still a lot we don't know about COVID-19 and it's possible likely we're minimizing the risk by comparing it to the flu.
What we do know from infectious disease experts is that it's more contagious than the flu, it's very likely that it's more deadly than the flu, and that we're unlikely to have a vaccine for another 18 months.
It's also easy for young, healthy people to not worry too much because it's unlikely to affect us much more than the common cold, but giving it to someone who is older, has another underlying chronic condition (cardiovascular disease, diabetes, etc.) and/or is immune compromised could be deadly.
Be Prepared
A lot of the people comparing COVID-19 to the flu are making fun of people for over-reacting or inducing panic.
On that note, here's a quote from infectious disease expert Michael Osterholm:
"My job isn't to scare you out of your wits, it's to scare you into your wits."
Social distancing is not panic.
It enables us to spread out the impact of the disease such that it doesn't overwhelm our healthcare system. South Korea seems to be doing this well. Italy, on the other hand, is a disaster. They're having to choose who to intubate because they don't have enough artificial ventilator equipment.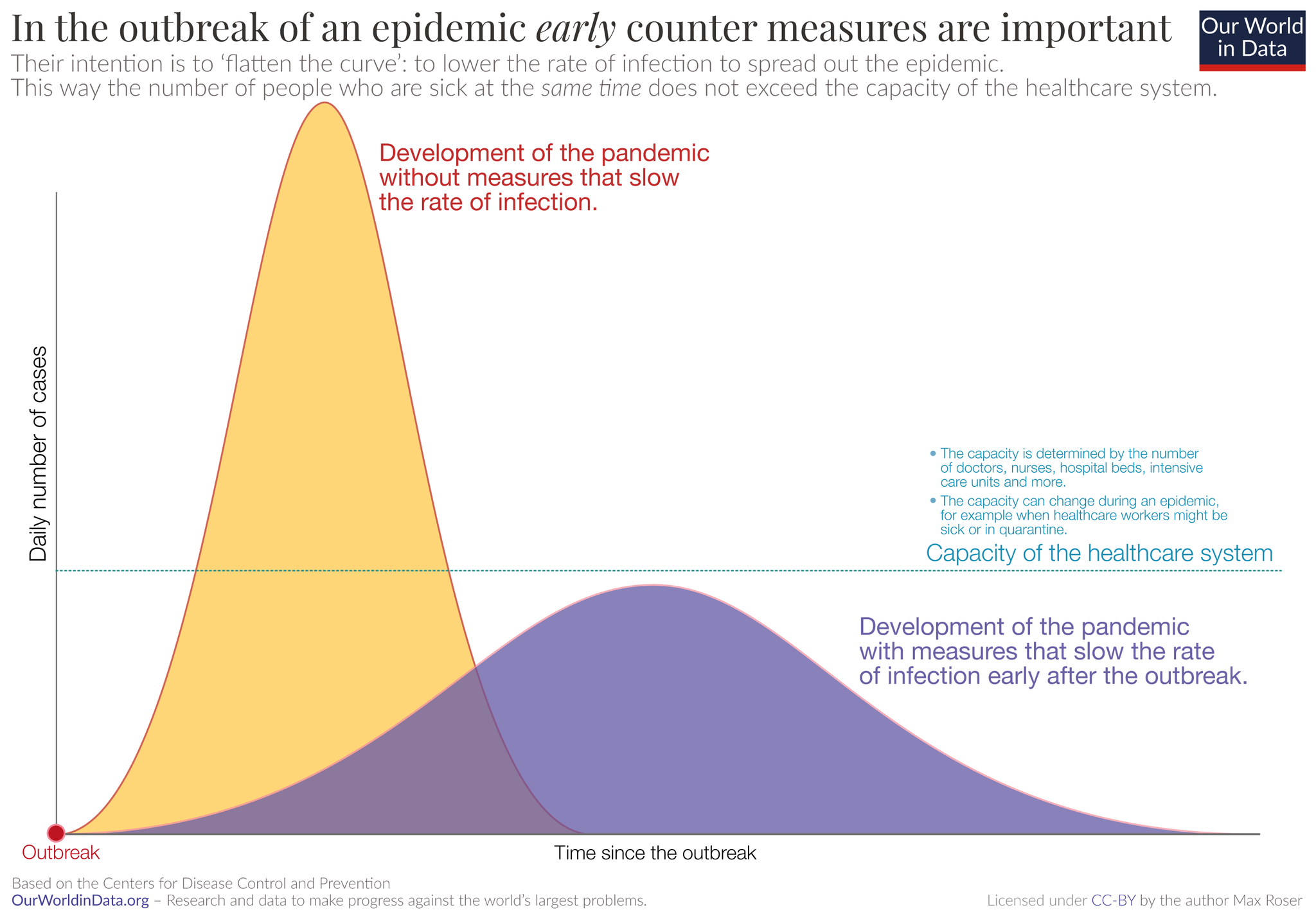 Things You Can Personally Do:
Prepare; don't panic
Practice safe hygiene
Be leery of misinformation
Do not be a racist asshole
Kyra David Woodward has crafted a letter to her family and loved ones to emphasize preparedness for COVID-19, especially for those over 60. She's invited you to plagiarize and share as you deem necessary. It's an informed approach you should absolutely borrow.
Best Summaries Thus Far
Video: The Coronavirus Explained
For a factual briefing on how the virus spreads, and what it does, this is 8.5 minutes it time well spent.
Here's an excellent summary from Erica Carmen Kaye, a Harvard MD and Johns Hopkins MPH assuring you that COVID19 is not a "hoax" or a "political game" or "media-driven fear mongering."
She also covers:
The importance of early identification
Why we need to be proactive and not reactive
Being mindful of what is going on in other countries
Why the U.S. is so far behind on testing and the implications of that
Why social distancing is so critical and requires an attitude of altruism
The fact that infectious disease experts believe the U.S. missed its window for containment
The implications of overwhelm to local hospital systems including unnecessary deaths from treatable pathophysiology
Commentary and Articles
Below are some thoughtful threads and information that I've encountered. I will continue to update (and vet) this list as I encounter new information.
Social Distancing
Here is the thing to understand about flattening the curve. It only works if we take necessary measures before they seem necessary. And if it works, people will think we over-reacted. We have to be willing to look like we over-reacted.  — Kaila Colbin
High-yield crowd-sourced information about effective strategies to "flatten the curve."
How will country-based mitigation measures influence the course of the COVID-19 epidemic?
Published in the leading global health journal – take home message is that social distancing and isolation of infected individuals can mitigate the impact of the virus. Good discussion on incubation time, duration of infectivity, and critical importance of controlling the rate of transmission (R0).
What's your risk of dying of COVID-19 – or inadvertently allowing the death of someone in your community?
Review of epidemiological models that demonstrate how canceling gatherings can directly lead to saving lives within the community.
What about school closures? Great thread from Nicholas Christakis, Physician and Professor of Social and Natural Science at Yale
Closing schools has costs, such as health care workers having to stay home and kids missing subsidized lunches
Studies show that school closures are one of the most beneficial 'non-pharmaceutical interventions' that can be employed, more effective even than reactive quarantines or banning of public gatherings
An inventive 2007 study by @HowardMarkel et al in @JAMA_current examined impact of school closures and other NPI, and their precise timing, in the 1918 influenza pandemic, looking at 43 major USA cities
The *earlier* that schools were closed (ideally even in *advance* of outbreaks) the lower the number of excess deaths in 43 US cities during the 1918 Influenza pandemic.
Should you Take COVID-19 Seriously?
Don't Panic: The comprehensive Ars Technica guide to the coronavirus [Updated daily]
Well-organized Q&A on COVID19 for the public. Bottom line: "You should be concerned and take this seriously. But you should not panic."
Separating the Facts From the Misinformation About COVID-19 [Updated 3/8]
This is another great Q&A on COVID19.
Great slide deck.
What Can we Learn from Other Countries?
Largest case series of COVID19 patients (n=72,314) published in a leading medical journal, summarizing key epidemiologic characteristics and centralized efforts to decrease morbidity and mortality from the Chinese Center for Disease Control and Prevention
Singapore is the model for how to handle the coronavirus
Encouraging news out of South Korea– They're favorably bending the epidemic curve
Italy Disaster
Clinical Ethics Recommendations for Admission to Intensive Treatments And for Their Suspension, In Exceptional Conditions of Imbalance Between Needs and Available Resources (Original document in Italian)
A week ago, Italy had so few cases of corona that it could give each stricken patient high-quality care. Today, some hospitals are so overwhelmed that they simply cannot treat every patient. They are starting to do wartime triage. This scenario is substantially comparable to the field of 'catastrophe medicine.
The Extraordinary Decisions Facing Italian Doctors
There are now simply too many patients for each one of them to receive adequate care. Those who are too old to have a high likelihood of recovery, or who have too low a number of "life-years" left even if they should survive, will be left to die. It's a matter of giving priority to 'the highest hope of life and survival.
'Get ready': Italian doctors warn Europe of coronavirus impact on hospitals
Call to action by physicians in Italy warning colleagues in neighboring countries to prepare for high volume ICU level patient care needs.
English translation of Dr. Daniele Macchini's cry for people to take this more seriously
Note: She's located in Bergamo, Italy
"An epidemiological disaster is taking place."
"Our ER is collapsing.""Every ventilator is like gold."
First-hand account from Lumbardy region of Italy on how bad it is there and the need to prepare
What about the United States?
Testing for the coronavirus might have stopped it. Now it's too late.
An infectious disease researcher discusses the critical importance of coronavirus testing and describes how the virus spread unchecked to become endemic over the past several weeks.
At least 5 US health workers have gotten the coronavirus, and hundreds more are in quarantine. Hospitals may face staffing shortages as cases surge.
Hundreds of U.S. healthcare workers are already in quarantine; exposures may impact our ability to adequately staff hospitals across the
Other Articles and Resources
Interesting Questions
Are collective cultures (e.g. East Asian cultures) better at dealing with existential threats and more individualist cultures like the United States?
Should we keep schools open so that our healthcare workers and nurses can attend to the sick? What bout kids that rely on the free meals?
What's the impact on small, highly leveraged and/or low margin businesses?
Will we shift to more proximity-based manufacturing?